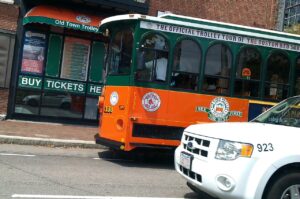 Many consider the state of Massachusetts to be the cultural and financial center of the entire New England region. This also implies that the cities of Massachusetts are bustling hubs of activity and vehicle traffic.
The 2017 Top Crash Locations Report published in September 2020 by the Massachusetts Department of Transportation outlines the deadliest intersections across the state. From this information, it is possible to discern in which Massachusetts cities the most crashes happen.
Lowell
The city of Lowell is home to an intersection that is arguably the most deadly in all of Massachusetts. The intersection of Veteran of Foreign Wars Highway and Bridge Street was the site of 124 crashes during the period from 2015-2017, with 28 of those car crashes resulting in fatalities or injuries.
There are other notably dangerous intersections within the city limits of Lowell, MA as well. Where Appleton Street meets Central Street, 26 fatal or injury-inducing crashes occurred during the research period.
Data points to Veteran of Foreign Wars Highway as potentially the deadliest road in Massachusetts due to its involvement in another dangerous intersection at Mammoth Road in Lowell where 17 additional fatal and injury crashes occurred between 2015 and 2017.
Milton
Milton, MA is a prominent suburb of Boston that also has an unfortunate reputation as another of Massachusetts' more accident-prone cities. The intersection of Randolph Avenue and Chickatawbut Road saw 60 crashes from 2015-2017, with no less than half of those resulting in fatalities or injuries.
Further down the list of data provided by MDOT is the intersection of Blue Hill Avenue and Dollar Lane. While this crossing only experienced 26 crashes over a three-year period, 14 of these were fatal or injury crashes. This high ratio of dangerous collisions marks these lesser-known streets as locations of which Milton residents should be wary.
Boston
Most people know that Boston is the largest city in Massachusetts, but many might be unaware of just how frequently car accidents occur within the state capital. The most notable crash site in Boston is the intersection of Morton Street and Harvard Street. Though this intersection was the site of a seemingly small number of crashes overall compared to other locations in the state, the high percentage of these accidents that resulted in fatalities or injuries in 2015-2017 is a significant cause for concern. Of 44 crashes, 30 of them were fatal or injury crashes.
Another attention-worthy crash site in Boston proper is where Gallivan Boulevard crosses Adams Street. This is another location where the number of fatal and injury-inducing accidents is quite high compared to the overall number of crashes that occurred during the testing period. Over half of the 36 crashes that occurred were potentially life-threatening with 20 of them causing injuries or fatalities.
Brockton
Brockton, MA is an important city in Plymouth County and also a place with significant history pertaining to the world of sports. In addition, it is also possible to label Brockton as perhaps the fourth most car accident-prone city in the state.
Where Ash Street meets West Elm Street in Brockton, 56 crashes occurred between 2015 and 2017. Of those, 29 resulted in injuries or fatalities for those involved.
The intersection of Court Street and Montello Street is also a Brockton, MA location with an observable high concentration of car accidents. During the research period, 43 crashes occurred at this crossing and 19 of those were fatal or injury-inducing crashes.
Stoughton
While less populous than other Massachusetts cities with high crash concentrations, Stoughton is a Norfolk County town with its fair share of dangerous intersections. Pleasant Street and Lincoln Street in Stoughton saw no less than 51 crashes at the site of their crossing during a three-year period, with 22 of those being lethal or injury-inducing.
Canton Street and School Street in Stoughton intersect at another location with a high tendency for motor vehicle accidents. At this intersection, 43 crashes occurred from 2015 to 2017. Luckily, only around one-third of these crashes resulted in serious harm with no more than 15 of them being fatal or injury crashes.
What Should You Do After a Massachusetts Car Crash?
Motor vehicle accidents can happen anywhere, with many of them occurring on highways far from major intersections. Even so, Massachusetts residents should remain aware that high-traffic intersections can be frequent sites of car crashes that are particularly catastrophic. All the more so in major cities and suburbs with significant population density.
If you experience a Massachusetts car crash, your first priority should be to guarantee your own safety and that of your passengers. While it can be difficult to maneuver after a crash in a packed intersection, it is best to try to move away from the road and to a safe location if you do not have any injuries preventing you from doing so. Wait for the police to arrive on the scene and receive medical attention as soon as possible, even if you do not notice any pain or injuries right away.
When it is safe to do so, your next steps should be to exchange insurance information with the other driver and document the accident with photographs and witness testimony. From there you can confidently start the insurance claim process. It is also a good idea to involve a car accident attorney in the process from this early stage.
The Number You Should Call After an Accident
It is important for Massachusetts residents as well as travelers from out-of-state to know which cities in the commonwealth are host to the most accidents. With this information, drivers can be safer and exercise appropriate caution when driving through the most crash-prone cities in Massachusetts. Motorists can also maintain heightened awareness at the state's deadliest intersections.
If you experience an accident in a Massachusetts city, or anywhere in New England, you can benefit from having the guidance and expertise of a practiced injury lawyer with experience handling cases in the region on your side. Call Jason Stone Injury Lawyers at 800-577-5188 or contact us online today to begin moving forward with your personal injury case.